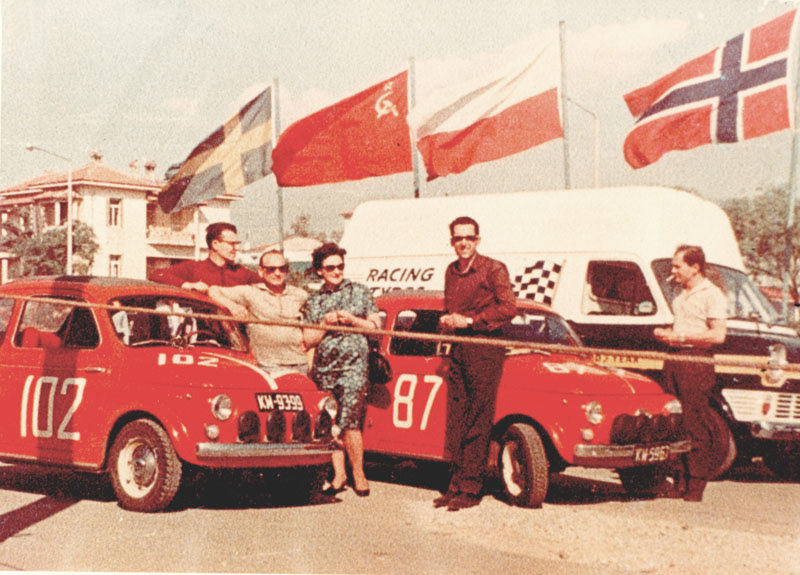 Published: Sunday 23 April 2017
THERE WILL BE A FILM ABOUT CZESŁAW • LONELY DEATH OF A RIDER
Author: Wojtek Maślanka
He belonged to the group of the most prominent Polish car racers of the 50s 60s and 70s of the last century. He was also a well known and respected craftsman. After emigrating from Poland his life completely changed. He died in loneliness and was short of being buried in a collective urban grave. There is a film about his life full of "turns and special episodes".
Czeslaw Wodnicki was a rally driver representing the Autobobilklub Krakowski. He participated in both motorbike and car racing. As a driver and pilot he took part in the most important events of the day, starting with the Polish championship and the Monte Carlo and Acropolis rallies. He won many races and his first success was in 1949, when he won the title of motorcycle champion of Poland. Later he confirmed his class as a car driver and rally pilot, racing both Polish and European routes. He gained recognition not only among sports fans but also the authorities at the time. Despite these successes, he emigrated from Poland to the United States, where his life was no longer as colorful and successful as before.

In his Big Apple, his fate turned completely. He lived in New York for 36 years, and although he had been able to deal with emigration for most of his life, he spent the last months of his life in a hospital and social care home. He died on February 9, 2016 at the age of 87. Had it not been for his friend's determination and the help of several friends, he would have been buried in a collective urban grave. Finally, the ashes of Czeslaw Wodnicki rested on St. Charles Resurrection Cemeteries in Farmingdale on Long Island. About his life, "full of curves and special episodes" - says director Przemyslaw "Rick" Bąk - a documentary is in the works.
GOOD START AND GREAT RIDE
Czesiek was in the late 1950s a kind of sports celebrity surrounded by wreaths of beautiful girls. He enjoyed the popularity. Czeslaw was very friendly, helpful and kind. Zygmunt Wiśniowski, a rider and his friend from the Cracow Automobile Club, who in 1968 won the XXVIII Polish Rally Championship in the European Championships in 1968. "Czesiek liked the women, he loved the cars. He was a perfectionist when he did something, it was always very accurate - adds Wodnicki's friend. "Czesiec started his career as a motorcyclist, also a speedway motorist, and finally changed into cars," Zygmunt Wiśniowski recalls. "He could do it because he had a very wealthy father who owned shoe stores in Cracow and financially supported his son. "
Czeslaw Wodnicki participated in many different Polish and European races. He participated in the Monte Carlo and Acropolis rallies and various important competitions of the then Eastern European block.
"There were times when there was no distinction between a rider and a pilot, as it is now, once he was a driver, another time a pilot, everything depended on how it was reported before the start," explains Wiśniowski. The person who performed both functions but was definitely a better driver because he sometimes had problems with orientation in the field. "
Czeslaw Wodnicki was a member of motor sport section TS Wisła, for whom he won the first Viking trophy in the category of motor sport - in 1949 he won the title of Polish champion in 125 ccm class. In 1958, as the winner of Class V, he won the best result at the 8th All-Poland Mountain Rally in Wisła. In 1960, with the Eve Rule, he won the general classification of the 4th Rally of the Dolnośląski Rally, starting with the P60 montlhery sim. Besides, he won the Polish championship twice.
In rally car rides, among others: simron aronde and simki P60 montlhery, Fiat 600, steyr-down 650 TR and NSU 1000 TT. He was in the crew with Ewa Zasada, Adam Wędrychowski, Ryszard Nowicki and Krzysztof Komornicki. As a sportsman he had a very high regard among the supporters and the authorities.
"Józef Cyrankiewicz gave him even a simon aronde, then the high-class car he was parading at various events," recalls Wiśniowski.

Wodnicki also enjoyed great popularity as an entrepreneur who produced a car seat belts in the Craft Cooperative of Supply and Distribution of Metalworkers in Tarnów. It was a very prosperous business, even at the Poznan Fair - it's a friend of Wodnicki. "Something went wrong later, I do not know how it happened, but somehow he was caught up in a conflict with the tax office and was eliminated from the market. That's why I came up with an idea to send him an invitation to come to the United States and that's how it happened. "
Czeslaw Wodnicki, when arrived in New York, joined the Polish Automobile Society of USA, the auto club founded by Zygmunt Wiśniowski and has been operating at the Polish-Slavonic Center for over 20 years since the late 70's. "He was eager to take part in various events organized by us. He liked to participate, talk and give interviews, just like in Poland, he liked to be on a candlestick and he was a very colorful character, " says Wiśniowski.

SHARP TURN AND LONELY FINISH
Zbigniew Semczyk, owner of the Polish Home Service agency from Greenpoint, met Czeslaw Wodnicki just after arriving in the United States in December 1980. Both came from Cracow and had similar sports interests, so they quickly became friends.
"Czesiek came to New York in the summer of 1980, a few months earlier than I. He arrived at the invitation of his colleague Zygmunt Wiśniowski.  Czesiek emigrated because he was not politically correct man in Poland. Although he was a well known sportsman, he did not succumb to the political pressure of the time. " Czesław Wodnicki was also a well-known craftsman in Poland producing various minor things, starting with key rings and pens, onto the car seat belts. Unfortunately, life in the United States - like many other compatriots - was not good for him.
"He had uninteresting job here, worked as a contractor, was employed in a nut-and-bolts factory, and at one of the Brooklyn cemeteries, where he handled various mechanical vehicles, worked there until his retirement," recalls a friend of a well-known rider. Wodnicki initially lived briefly in Greenpoint, then moved to Flushing, Queens, where he lived for the rest of his life.
"He visited Greenpoint almost  every day to shop and talk in Polish, and sometimes visited Dr. Andrzej Kaminski, who also became friends with him, and then came into my agency for long, hot conversations," says Semczyk, adding that at the beginning In 2015, during one such visit Wodnicki felt bad, so he ordered him a taxi that brought him home.
From that moment the owner of the agency occasionally visited Wodnicki in his apartment on Flushing to exchange words with him and bring him Polish food. After some time he learned from his neighbors that due to the fall, Czeslaw Wodnicki he was hospitalized, also acquired pneumonia and finally fell into a coma.
"Actually, I was the only person who visited him, but he came to the hospital very late," he emphasizes. "At first he responded to me a little when I asked me if he recognized me. . The famous Polish raider had no family in the United States, and with the family that remained in Poland he had broken contacts, so he was very lonely. "Czesiek unfortunately was not in the best relationship with his family (I think there was a lot of guilty of that) living in Poland, who also did not want to have anything to do with him after his death," adds Zbigniew Semczyk.
As the weeks and months passed, Wodnicki was in worse shape."There was even a situation where the doctor wanted to disassociate him from the respirator," says Semczyk, adding that for some time, Wodnicki had also been in a social care home on Flushing, but as soon as his condition worsened, he returned to Hospital. On his next visit to the hospital, Semczyk learned that Czeslaw had died and that his body had been transported to the morgue and city wanted to burry him in a mass grave.
"Unfortunately, no one from the hospital informed me of his death, even though they knew that I was his closest friend." When I learned that Czeslaw's body was in a morgue, I had asked that I wanted to organize a proper burial for him." - A friend of Wodnicki explains. After three months, he managed to complete the necessary formalities to accomplish these goals.
"With the help of Arthur Dybanowski of Arthur's Funeral Home and the financial support of several friends, it was possible to cremate the body of Czesiek, and the urn with his ashes was placed on St. Charles Resurrection Cemeteries in Farmingdale on Long Islad," explains the owner of Polish Home Service. Among the people - apart from Zbigniew Semczyk - thanks to which Wodnicki was not buried in the collective city graves are: Dr. Andrzej Kamiński, Zygmunt Wiśniowski and Mrs. Małgorzata. 
Czeslaw Wodnicki died on February 9, 2016 at the age of 87.
It is sad that the family of a famous rider who lived in Poland even after his death did not want to be interested in the fate of his relatives and to receive urn with his ashes to be deposited in his family grave at Cracow Rakowicki Cemetery.
"Czesiek had his place in the tomb where his parents and brother were resting, but unfortunately the family did not agree, even knowing that he would not bear any costs connected with the transport of the urn to Poland", explains Semczyk and adds that his In such situations, all family animosities should be set aside.


CZESIEK
The story of Czeslaw Wodnicki's life and sportmanship inpired the Polish director and painter Przemysław "Rick" Bak, who decided to make a documentary about him.
"The film will feature the memories of his friends and fellow riders, archival photographs and videos from various rallies, and events in which Czeslaw participated in Poland, other European countries and in New York, where he was active in the Polish Rally Club" - tells the director of the film. Przemysław Bąk, as it turns out, is one of the people who personally knew the rider who died in February 2016.
"I met Czesława in the office of our friend in Brooklyn, where Mr. Wodnicki often visited, read the newspaper and sipped tea." Wodnicki was a member of a group of emigrants who were doing something different in Poland, more interesting than here. "He was one of many people, so I did not ask about his past at first. But over time, I learned a little about Czesiek, because we met sometimes and all in all, I was a side witness of the last months of his life, and that was when I got emotionally involved with him. " he explains.
Przemysław Bąk encouraged by his friend, a Polish filmmaker, Dariusz Gackowski, whom at the end of last year he told the story about Wodnicki, one of the most important Polish race-car driver of the 1960s.
"About two months ago, during our telephone conversation, Daro returned to this topic, and he actually encouraged me to make the documentary about Czesiek, because his life story was so interesting," says the director, who then began to intensively seek additional information on Wodnicki. The more deeply he dived into the story of his life, the more  interesting it became for him.
"Then I made an appointment to meet Zbyszek Semczyk, Czeslaw's friend and his closest ally in the United States and we had a long conversation about Czesiek. I needed Zbyszek's account to plan how to approach this film. Zbyszek he had - so to speak - intimate insight into his life. He gave me incredible knowledge about Czesiek, "- adds Bąk. Soon after, the work on the film gained an incredible pace. Zbigniew Semczyk arranged next meetings of the director with people who knew Wodnicki well.
"I began to record conversations about Czesiek, many other are still waiting to be carried out, but I've already learned a lot of interesting things about the life and activity of  Czesiek, which I want to convey in the film," says Bak. "I have some interesting ideas as to how this document needs to be realized. "
The film is currently in its initial stages, and its creator and producer has already written many scenes. But first he wants to record a trailer and he will try to get full funding for this movie.
"When I achieve this, I will immediately start intensive work and thorough analysis of Czesław's life to make this documentary," says Przemyslaw Bąk, who realizes that this job will take him months because he intends to reach both Wodnik's acquaintances living in New York, as well as those who remained in Poland.
"I also want to meet and talk to his family. Among them there are well known and exceptional people. I will do everything to get those people to appear in this documentary. My role as a documentary filmmaker is to show the life story of Czesiek, without being judgmental,  present the facts and give the opportunity to express opinions to all who are interested in appearing in this film and of course have something important to convey, "- the director assures.
Przemysław Bąk partially covers the costs associated with making the trailer for the movie, and on www.czesiek.info decided to launch a special crowdfunding action to support the film's production.
"Thanks to the generosity of my friends who share my enthusiasm for this project, I got financial and logistical support for the project," explains the director. "In this action, I do not mean that anyone contributes $10,000. $10 or even $ 5 will help making the documentary. The trailer is financed mostly from my own pocket, because I really believe in the success of this film, " says Przemysław Bąk, who specializes in documenting this type of stories.
"As a filmmaker and painter, I'm interested in people's sensitivities, their loneliness and isolation in the big cities, the ups and downs, the issues of human fate," said the filmmaker, "I am making a film not only about an outstanding Polish sportsman but above all about the human being." - the director concluded.■